Ceremonia
The imagery of Carlo Pignatelli explores the interior design of noble mansions, royal palaces and luxurious holiday homes. Stuccos, decorations, frescoes, painted and sculpted vaults are revived through processes using fabrics and accessories, making them precious and unique.
It feels like a "chamber of wonders", with decorations and fantasies leading to a dimension suspended between fiction and reality. The "storia di un sogno" (story of a dream) continues to transport the observer into a magical world where everything seems possible and people are defined by originality.
Couture
In the Carlo Pignatelli Couture collection, the bride is naturally sophisticated, preferring whimsical creations draped in fine fabrics. The unique craftsmanship, which looks extraordinary, allows these wedding day pieces to transform into something personal, without losing any of their refined elegance. The clothes become true sartorial works of art that preserve the origins of the maison while delicately renewing them. Attention to detail is a priority, sometimes drawing inspiration from the male wardrobe. The perfect and precise cuts that create definite lines are evocative of the classics. Each garment is a small sculpture, light and ethereal to the touch, with transparent elements and details enhancing their femininity. Materials vary from item to item: jacquard georgette, cloquet, fil coupè, opalescent organza and double satin, reinterpreted through plissé soleil, flat folds and exquisite embroidery done using semiprecious stones, pearls and Swarovski crystals.
The aesthetic rules of haute couture are celebrated through exclusive and custom-made bridal dress, which, thanks to the addition of a tailor, successfully combine the art of couture with individually customised styles. Each dress is one-of-a-kind, unique and elegant.
Fiorinda Le Spose
The Fiorinda Le Spose di Carlo Pignatelli collection was born from modernity and adaptability. Classic tulle dresses are contrasted with trouser suits, skirts, jumpsuits, short dresses, blouses and lace kimonos. The details are hyper-feminine, playing with marabout inserts, embroidered straps, vintage bon ton edges and transparent elements. The sleeves come in various volumes; puffed, gloved, mantles. The materials are surprising too; envers satin with an almost sablè blur, georgette, rebrodè lace, full pailletted, macramé edges, nappa fringes, and embroidered inlays. The effect is young, sometimes androgynous, reminiscent of men's suits and markedly masculine vests, bringing a fresh sensuality to the table.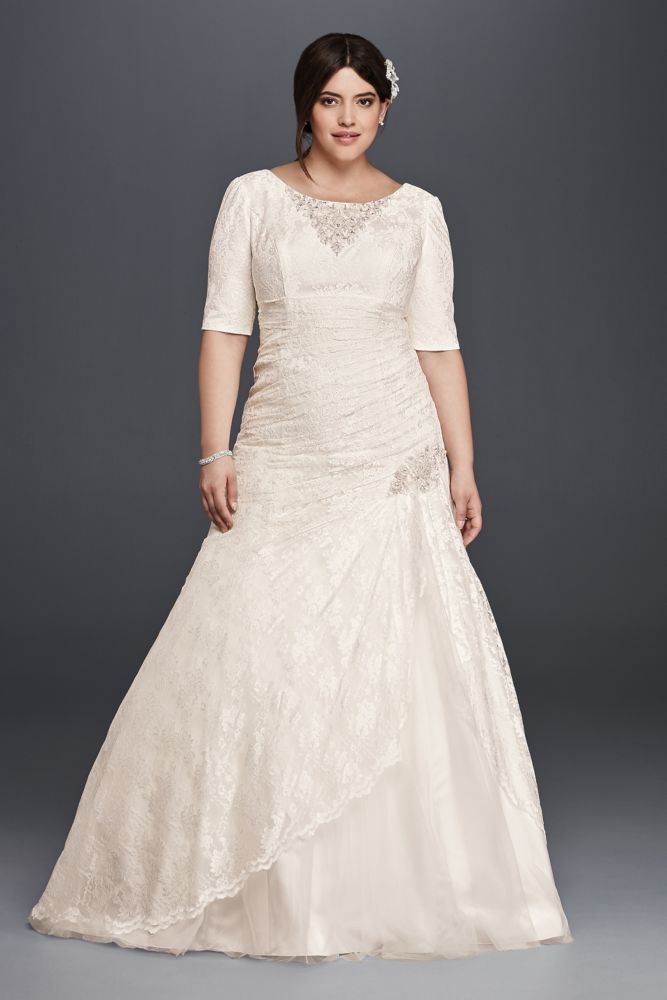 Lace Plus Size Wedding Dress with Elbow Sleeves Style 4XL9SLYP3344
Buy Now
Davidsbridal.com
Slip an elegant comb in your hair and embrace a demure and classic wedding day look. This lace plus size extra length A-line wedding dress with elbow length sleeves is modest, yet stunning. Beaded embroidery and a draped skirt complement the lovely silhouette. David's Bridal Collection Plus Size, 4" Extra Length Lace, polyester Chapel train Back zipper; fully lined Dry clean Imported Also available in Regular, Plus Size, Petite,and Extra Length Special Value! Final price listed, no additional discounts apply